Like businesses past, present and future often do, the Filling's story began modestly. The year was 1929; Frank Frederick Filling quietly purchased a soda fountain in Millersville, Pennsylvania. Frank quickly realized that versatility was the key to a successful business. He maximized the new space by turning the rear of the building into a shop for pressing clothing. By 1932 he had added a location in Lancaster. Shortly afterward, Frank purchased a tailor shop at Pine and Lemon Streets in Lancaster. While this acquisition proved to be a wise decision, during this time period ready-made clothing was almost non-existent. The shop made suits for $24.75 – 38.95, depending on fabric.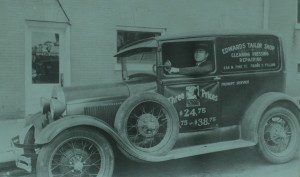 In 1938, the always enterprising Frank purchased the Green  Shea Inn in Mountville, PA. This location became one of the first mineral spirits dry cleaning facilities in the state.  Filling's rapidly grew into a thriving business with multiple delivery routes and drop-off locations throughout Lancaster County. Later, in 1941, the tailor shop moved to a building at the corner of Lemon Street and Charlotte Streets in Lancaster. After World War II ready-made clothing came into vogue; as a result, the apparel side of the business expanded tremendously.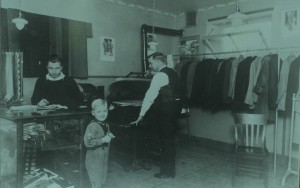 Frank's eight children worked on and off throughout the early years of the company. Sons Frank Jr, Jay William (Bill), Richard and Albert were most active in the business. After his death in 1952, the family carried on Frank senior's vision and continued to oversee various aspects of the now booming business. Filling's eventually branched out to include uniform sales and rentals; Kathryn Filling founded a women's apparel division within the Lemon Street store in 1963.
Fast-forward a number of years (and expansions) to the late 1970's.  Filling's discontinued uniform sales as new locations for dry cleaning were opened, and a second men's and women's store was added in 1979.  As the 1980's came and went apparel sales and dry cleaning continued to be the backbone of the company. Soon a third generation of the Filling's flock began working and the business was primed for the future. Some of these younger members of the family, like J. Jay Filling, eventually ran a business unit.  At one time, the company supported seven working owners and four non–working owners.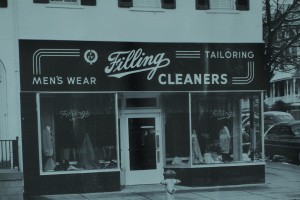 After over three decades in the business, Frank Filling, Jr. retired in 1988. As a result, his brother Bill moved into a dual management position. Bill oversaw apparel and dry cleaning as company president/CEO until his retirement in 1995. Jay Filling moved into the flagship location as store buyer/manager. Women's apparel has been overseen by Jay's wife Mary Beth since Linda Filling passed the torch in 1983.  Dry cleaning continued to operate at high service levels, winning every "Best Of" award ever tallied in all local surveys.  Over the years the focus shifted to a commitment to apparel, while Filling's maintained the traditional emphasis of exceptional service to guests.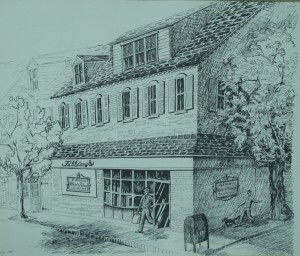 In 1998, Mary Beth and J. Jay Filling purchased the business and this change also saw the sale of the dry cleaning division of the company. Men's and women's apparel operated out of the Lemon Street store through 2007, after which Filling's moved to its current location at 681 Harrisburg Avenue. This move once again changed the face of the company, as we now thrive in a fresh upscale location in Lancaster's northwest quadrant.  The area has developed into an exciting region of restaurants and mixed retail commonly referred to as "The Avenue".
That's how the story looks until now; and it's still being written! Thank you for taking a little time to get to know us.  Whether you're a longtime guest or first-time visitor,  you are a part of the Filling's family. Times and fashions  change, but we feel our desire to provide you with an extraordinary experience will always be in style.