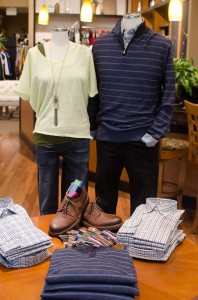 Hot summer days are winding down and those cool Fall evenings are fast approaching. Are you ready to get Back to Cool?

Fall is the perfect time to show your style.  It's time to break out the jeans and boots, skirts and tights, sweaters and leggings. The casual lifestyle look is becoming very popular, and can be seen in weekend attire, casual daytime looks and up to date business wear.  We also carry a great array of dresses, casual and daytime. Hoodies are a necessity for the weekend ensembles!  

This season it looks like untypical Fall colors like cobalt and cranberry are going to be in fashion, with greys being the essential neutral color. Olive greens are also important for Fall styles. Stripes are still strong, as well as geometric and Aztec patterns, and 60's-inspired dresses/skirts.

The must-have this Fall is a cool, cropped vegan leather jacket in a bright color or a 3/4 length Houndstooth duster.

Stop in and see us at Filling's for our fashion expertise, personalized customer service and attention to detail, including free alterations!