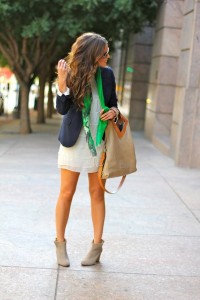 The "Dog Days of Summer" have arrived and although we're sad to see Summer come to a close, it's a perfect time to clean your closets. But you don't want to put away all your fair-weather clothing and replace with sweaters and jeans right away, either.  Here are a few tips on how to transition your wardrobe:
Pack away anything that screams "Summer" such as linen shorts, cotton dresses, strapless printed maxi dresses, white pants in seasonal materials, and flat thong-like sandals. Keep out anything made with silk (blouses, dresses, blazers), or heavier cotton (T-shirts, long-sleeve shirts, sweatshirts), which can be worn all year around. Same goes for denim cutoffs, which can work with opaque black tights.
Keep those tanks and tees within reach! Layering is your best friend when it comes to the colder months. It will keep you warm and cozy inside and outside, plus you can take off a few things if it begins to get a little too warm for your liking. Just make sure you don't put on too much by remembering to keep it to only three levels of layering.
Light sweaters, cardigans, and blazers over, or opaque tights under, a sundress are great ways to extend "Summer" dress wearing.
Just add boots… They've been hibernating in your closet all Summer, just waiting for a little action. So, next time you're wearing your favorite skirt or shorts, take a pair of boots out of their slumber and add a funky twist to your feminine look. They work with everything from floral to denim and are the perfect way to keep showing some leg into the winter.