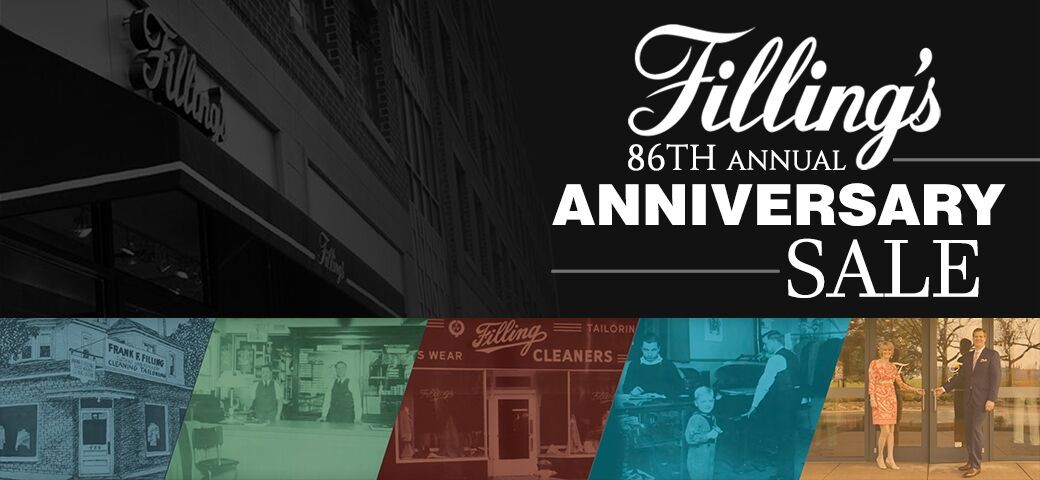 Celebrate our 86th Anniversary with us!!


Thursday October 29th through Saturday October 31st
SAVE 25% On Any Single Item Purchased During This 3-Day Event!* 
PLUS Our Anniversary Party


Thursday October 29th, 4pm-7pm
Enjoy an  EXTRA 10% OFF  your sale item during the party, as well as complimentary lite fare and refreshments!
As the world continues to rotate and time passes, things tend to change. But, here in Lancaster County, we haven't changed our formula of bringing you fantastic made to fit clothing. We are celebrating 86 years of operation, but our celebration is much more than just the clothing we provide. It's an infinite amount of heartfelt 'Thank You's' to each & every person who has taken the time to visit our shop.
Did you know that Fillings was originally one of the first mineral spirits dry cleaning facilities? In 1932, ready-made clothing was close to non-existent. After World War II ready-made clothing came into vogue and as a result, Filling's was there to help expand the ready-made clothing.
Business went from pressing clothes, dry cleaning, tailoring and up to high-end retail. We've moved a few times in our 86 years, starting out in Millersville, but now we reside soundly on Harrisburg Avenue in the infamous College Row section of Lancaster County.
Our past is thick & storied and we remind ourselves where we've come from, but we are extremely interested in celebrating what's next for us – the future of Filling's! We look forward to continuing our growth along side Lancaster and we can't wait to have you come and visit.