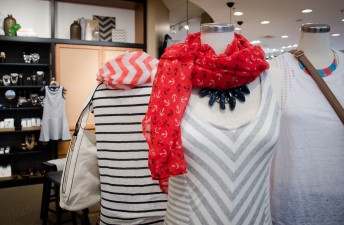 Ladies, you know the feeling; the little tingle of excitement when you get to scan the closet to find the perfect outfit; you're going out!  But of course, the million dollar question—how do you decide from all those options in that closet?  Relax; our Filling's Five Tips for Fashion team is with you all the way! Try these looks out and watch the heads turn:
1. With a full top, accent with a tapered leg pant or do the opposite; a form fitted top with a fuller leg pant.
2. Black and white is always in fashion.  Add a pop of color in your scarf or necklace for added pizazz.
3. Navy blue has become a fashion staple and looks terrific with pastels and jewel tones.
4. Sheer blouses and mesh sweaters are nice options this season…add a bright colored tank underneath  for a new dimension to the look.
5. A trending category in women's clothing is the lifestyle look.  It is available in all groups.  Hoodies, full linen, pants and graphic tees create a bold new casual vibe.
Men, you're up next; we'll talk about our Five Tips for Fashion for you; we'll help you make looking great look easy!