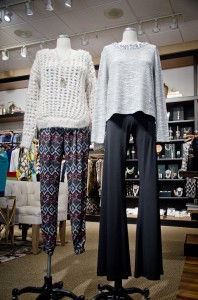 We all love an incredible story. You know the one, simply starting from nothing to fulfilling your dreams. Cinderella? Sort of. How about, 'The American Dream'. It's what this country was, and what it will always be built on. Heck, we like to think we're one of those American success stories; guess that's one of the reasons we we're so drawn to Veronica M Clothing!
Veronica Monroy-Ferrer started selling miniskirts out of her mom's garage in 1996. She now owns FIVE stores in Southern California! The great thing is, they're still boutique shops. Not some large corporate run conglomerate. Oh, and did we mention that her clothing is fabulous??? Beautiful vintage patterns mixed with respected classic designs make Veronica M unique and stylish.
Plus, Veronica M clothing has GOT to be some of the softest, most comfortable clothing around! We know we love that and you do too, because there's nothing better than something that looks unbelievable and feels exactly the same.
Veronica Monroy-Ferrer understands you and what YOU want from the very beginning (she's a working girl and mom) so you'll experience it in every piece you wear! We here at Filling's Clothing believe we understand you just as well. That's why we've got a great selection of Veronica M clothing in the store that we just know will make your day when you try it on.