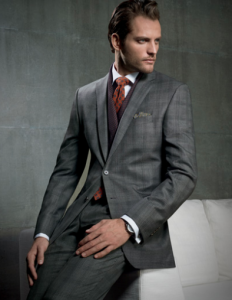 The word "customer" isn't a term we use often at Filling's; we prefer to call you "guests." We want you to feel like you're visiting us in our home, which, in a way you are! However, the word "customer" holds value at a very basic level. We rarely stop and think of it, but "customer" has a specific meaning (other than Webster's). Quite literally, the "custom" part invokes the idea of each person representing themselves. In other words, everyone is a unique individual with unique interests, styles, wants and needs. That's everything that drives us to have you experience the difference at Fillings. Your experiences are also unique to you and only you, and that's why we'll make your experience at Filling's unlike anyone else who has ever come to visit.
Now that we talked a little bit about the meaning of why we're often called "customers", let's talk about this edition of "Lovelines" featured brand: Jack Victor, which is known for their custom tailored menswear. A successful and world-renowned clothing company, Jack Victor is still family-owned after 100 years and run by the 3rd generation of Victors, whose mission is to uphold the virtues of the company's founder and namesake. Those virtues were: "to excel at product quality and customer service, to provide fashion and superior value, and to maintain the highest standards of integrity."
Jack Victor custom tailored clothing is among the finest available, combining modern production methods with traditional.  It's a perfect fit for the unique individual. "Luxurious fabrics and sophisticated tailoring" personify their collections. The company succeeds at maintaining heritage and tradition while staying in step with modern trends and fabrics. We identify well with these ideals, and that's why we proudly carry Jack Victor as one of our trusted brands.
This weekend treat yourself to a custom fit, with 20% off all custom menswear from Jack Victor including suits, sports coats, and trousers.