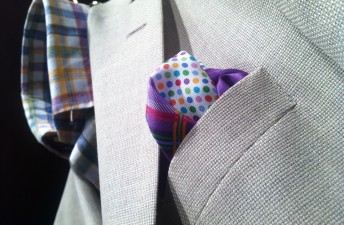 Let's face it men; some of you like getting dressed for a night on the town; others not so much. You've got a lot on your plate; taking a lot of time choosing what to wear isn't (and shouldn't be) one of them. That's why we've come up with these Five Tips for Fashion that makes looking great easy!
1. Always match your belt color to the shoe color and the sock to the pant color. Break that rule when adding a pop color or bright, especially for denim.
2. Jewelry should be understated and elegant. Large watches are fine, but make sure the shirt is cut to the proper size to avoid the accordion look.
3. Trimmer coat and shirt styles are in fashion. Be mindful of your size. Garments above the waist can add pounds if not tailored properly. Short and tight is not necessarily right.
4. Sport coats and jeans are always in fashion. Make sure you complete the look with a cool driver, loafer or suede boot. Fashion sneakers are trending. Your white athletic variety is not.
5. Pocket squares are always right, especially if you are wearing a coat without a tie.
That's it—simple, right? Check back often; we'll be posting more Filling's Five for Fashion Tips for you soon!