85 years; that's 14 presidents, color television, landing on the moon, the Internet, car phones, the iPhone, Facebook– you name it.  Likely, we've got a story about it.  Our celebration is much more than just recognizing that we've witnessed 85 years. It's an infinite amount of  "Thank You's" to each and every person that has walked through our doors.
To begin, we'd like to celebrate the first few who visited Filling's back in 1929.  They supported our founder, Frank Frederick Filling, as he quietly purchased a soda fountain in Millersville, Pennsylvania. Always eager to embrace new opportunities, Frank quickly realized that versatility was the key to a successful business. He maximized the new space by turning the rear of the building into a shop for pressing clothing.
As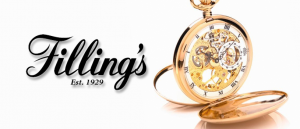 countless years began to tally up, so did the changes that bring us to the Filling's Lancaster knows today.  Our business has ranged from pressing clothes, dry cleaning, tailoring and rentals, all the way to high-end retail. We've travelled from Millersville to Lemon Street, right on over to our current home on Harrisburg Avenue!
We're anxious to celebrate what we believe to be just as exciting as the past –our future!  In 1929, if Frank were to be asked where he'd see his business in 85 years – we'd assume he'd get some things right and some wrong.  But surely we can agree, "going strong" would be an acceptable answer.  We look forward to continuing to grow along side Lancaster, and are excited to have you be a part of the journey!