With spring right around the corner, now is the perfect time to go through your wardrobe and decide which pieces should remain, and which are best stored away for a rainy day. First, you need to know what it is you're looking for!
Ladies first! Here's what we at Filling's Clothing believe you should have on your radar:
This coming season, pants will go two directions – the skinny is still in vogue, but we're seeing a big resurgence of patterned pants, many with a wide leg. Zigzags, Aztec prints and mottled stripes will be everywhere.
Sound Familiar? "The runways of spring and pre-fall 2015 may have been filtered through a hazy seventies lens: Think disco-ready shaggy, yeti jackets, paisleys and suede, or pointed fur-lined collars" – Liana Satenstein, of VOGUE
Tops are becoming a bit slimmer, but tunics still hold merit. Date night tops will be popular, highlighted with chiffon, going back to your favorite skinny jean or tight black pant. The colors are soft pastels or bold reds and royals.
Sweaters will be sheer or lightweight mesh, which requires a cami or tank top to complete the look. Fringed hems are also appearing on everything!  All lengths will be shown- just remember to pair a long top or sweater with a skinnier bottom and vice versa.
 Accessories being seen have a nautical flair, laser cuts or are monogrammed to make it personal. Scarves are still strong and the lightweight fabrics add color and texture instead of bulk.
Men aren't typically excited for drastic changes. Having an appreciation for the "Tried and True" approach, we expect several subtle twists on past trends, continuing to grow more and more defined:
Fit continues to be the focus in men's.  Trimmer and shorter silhouettes continue to be important.  This is the case in all classifications including shirts, knitwear, jackets and suits
Color will be very important for the new season, especially all shades of blue.  Brighter blues became important last year and remains that way.  Also, all shades of green have found added value.
Bold Alert! GQ recently spoke to trends moving Monotone. This year, runways were taken over by "many monotone men". A trend that seems simple enough isn't nearly as easy as it appears. You run the risk of appearing like The Hulk or a giant pumpkin. Nonetheless, men seem to be appreciating colors more and more.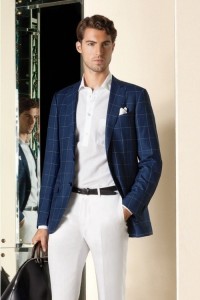 White bottoms are moving front and center.  This trend has been big in Europe for several seasons now, but will find a larger roll in the US.  Watch any type of golf on television and it is obvious the emphasis on white.
The growth of custom clothing, of all types, continues.  There are several issues at play:  The fit is better, the cost is lower (almost the same as off the rack), turnaround is faster, and choices far exceed in stock options.
Now that you know some "ins and outs", the fun begins – hunting for those must have up and coming styles that spring has to offer. Feeling your best is strongly influenced by looking your best. Consider yourself more of a visual learner? Stop by Filling's Clothing and let us take the time to show you the great trends this spring has to offer!