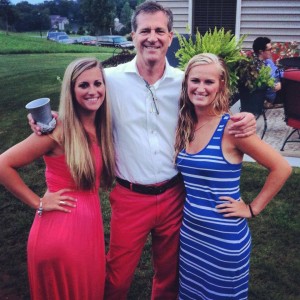 Although we have just begun our time working side by side with our dad, he has still taught us a tremendous amount. From a young age our dad taught us the importance of a hard work ethic. We saw the effort he put in to Filling's day in and day out, yet still managed to make family his first priority.
One thing that always sticks out to us about our dad is that he always stays calm in a time of chaos. He is the level-headed one of the family, and holds us all together. He has taught us to not make rash decisions and not get overwhelmed by what is in front of us. We have been slowly learning the business with our dad as our encouraging mentor. He has a way of making you feel like you can do anything when you set your mind to it.
We have been incredibly lucky to grow up with a dad who supported us no matter what. He has always encouraged us to chase our dreams and to achieve happiness. He has given us the tools to become adults and make decisions for ourselves, while letting us know that he is, and always will be here for us. We are so fortunate to have you in our lives. We love you.
Thanks Dad,
Lindsay and Katie 
We also asked you to submit any thoughts or musings about your Dad if you felt like sharing.  Here's a few that were submitted:
My dad and I went to the Finger Lakes Race Track (horse racing) together when I was 11 years old (41 years ago). It was a guys day out (Dad and I were the only Y chromosomes in the Lindsley Family). For the signature horse race of the day, Dad and I decided to each place our own bet on the race. We read odds and info on each horse (and info on the jockies, but I ignored that info). And then I gave my pick to Dad and he placed our bets. His horse was "Bob's A Prince" and mine was "DC Duke." DC Duke was the favorite and had a great jockey. Bob's A Prince was a terrible long shot but had an awesome jockey. When DC Duke and Bob's A Prince were fighting it out down the final stretch….and my Dad was wildly celebrating that my horse came in first and his horse came in second, he shared: " "Todd, I just won a lot of money! I bet on your horse to win and mine to come in second!" I asked him why he did that. His horse was ranked so low! He responded that he believes "you should always bet on the jockey and not just the horse" …our jockies were ranked 1 and 2 that day and that's how he bet. He explained later that betting on the "jockey" is helpful as you make decisions later in life about jobs, stocks, teams, owners, etc. How right he has been! Bet on the jockey not the horse. Great advice, Dad. It has served me well. Love you so much!!! PS – Fillings is an awesome jockey to bet on:)

– Todd L.

My Father was a man who lived by values. I couldn't have asked for a better Father. He would always say in trouble times. 'Actions speak louder than words. What you do in these times defines who you really are.'

I miss my Father and will have great thoughts about him this Father's Day.

– Ron W.