A wedding is a monumental celebration and it's important to put your best look forward. Being in the wedding party has its perks, such as being given an outfit to wear. However, most guests are stuck trying to decipher the dress code for an outfit that is both stylish and suitable for the venue. From Black Tie Optional to Rustic Bohemian Chic, we are confident we can help you find that look.
If it says: Black Tie Optional
You should wear: Also known as formal attire. A black-tie optional dress code calls for your best professional suit. A classic black suit is fine but don't be afraid to sport navy or gray instead. Pair it with a crisp white dress shirt and a tie either in a solid or a subtle pattern. Finish the look with polished dress shoes, accessorize with cufflinks and you're ready for the ceremony. A tux is also appropriate to wear but is not required.
If it says: Black Tie
You should wear: Even though the dress code includes "black" your tux doesn't have to. Charcoal, navy, black, and ivory are all acceptable colors. No matter the hue of your tuxedo, be sure it fits properly and get it tailored before the big day if needed. Be sure to skip the clip-on bowtie; you're in the big leagues now. In terms of footwear, patent leather is the way to go. For an added personal touch be creative and opt for a pop of color in your pocket square or socks. It is a party, after all.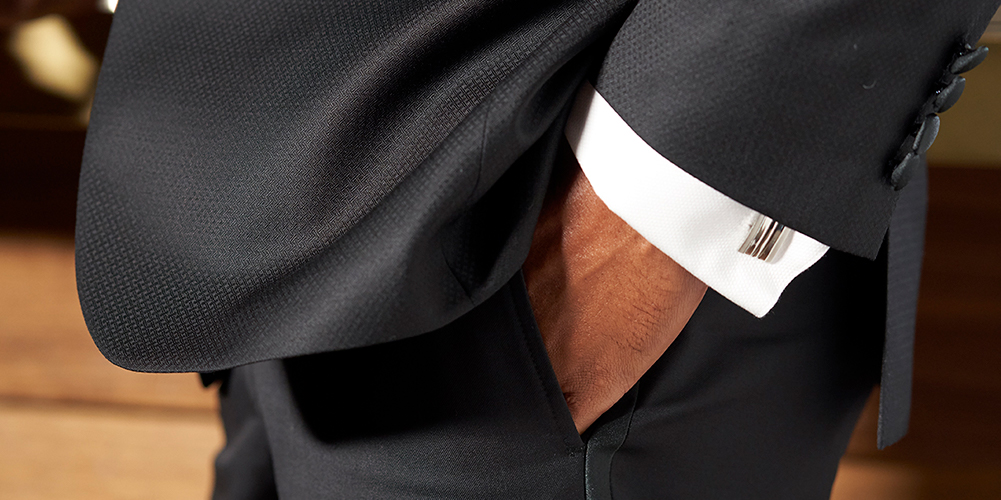 If it says: Casual
You should wear: Dressing for a casual wedding is the time for your personal style to shine. However, just because the dress code says "casual," jeans are never appropriate. We suggest slim dress pants and a button-down shirt without a tie or a sweater. Explore different textures of your shoes and try suede or rich leather. Get creative with the pattern and colors to match your date's outfit.
If it says: Rustic Bohemian Chic (or any other crazy combination)
You should wear: One can never go wrong with the classics. Wear your favorite suit with a white or blue dress shirt. For your tie, choose solid and dark in pattern and color. You might not be totally in line with the theme of the wedding, but you'll look great and no one can argue with that.
A word of gratitude: Thank you, Lancaster for voting Filling's Clothing Susquehanna Style's Best Men's Clothing Boutique. We constantly strive to provide the best experience for our clients and your continued support means the world to us. Check out the Best of Lancaster 2018 winners here: bit.ly/best-of-lanc